Do DUI Charges Transfer Between States?
Dec. 7, 2022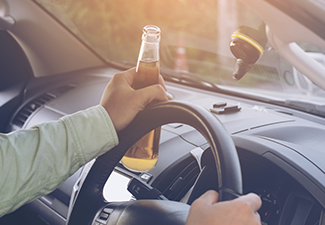 In all state across the country, it is illegal to drive or attempt to operate a motor vehicle while under the influence of drugs or alcohol. Unfortunately, a drunk driving conviction may result in massive fines, prison sentences, and license suspension, as well as increased difficulties in seeking jobs, education, loans, and public benefits. In addition to these penalties and consequences, your DUI charges or conviction may transfer to another state if you relocate, depending on the new state's laws.
At Richman Law Office LLC, I enjoy helping and representing clients in their DUI/DWI cases. As a strong Kansas DUI/DWI defense attorney, I can analyze your situation, determine whether your DUI conviction will follow you to another state, and help strategize your best defenses. My firm is proud to serve clients across Kansas City, Kansas, and Kansas City, Missouri.
Will a DUI Charge Transfer to Another State?
A DUI/DWI conviction is serious and could result in massive fines, imprisonment, loss of driving privileges, and other penalties. In the United States, some states have an agreement in place – such as the Interstate Driver's License Compact (IDLC) – to communicate information about driver's license suspensions and DUI charges.
According to the rules of the IDLC, member states are required to treat a DUI conviction in a sister state similar to an in-state DUI conviction. However, each state is not under any obligation to enforce an out-of-state DUI conviction or license suspension if such laws don't exist in the state.
Hence, if you receive a DUI in Kansas or Missouri and you relocate to an IDLC member state, the DUI on your driving or public record will follow you.
Interstate Agreements
An interstate agreement can be described as a pact between two or more states or between states and a foreign government. Here are some DUI-related interstate agreements in the United States:
Non-Resident Violators Compact (NRVC)
The Non-Resident Violator Compact (NRVC) is an interstate agreement between 44 states and Washington, D.C., which was established to process traffic citations between member states. The pact states that when a motorist receives citation in another state but fails to respond to the traffic violation, the person's license must be suspended in the home state until they comply.
The Driver License Compact (DLC)
The Driver License Compact provides that member states should communicate information about DUI/DWI convictions and driver's license suspensions between each other. For example, if you were convicted of a DUI while living in Kansas City and you move to San Francisco, the Kansas DMV will report the DUI conviction to the California DMV. Here are some states included in the IDLC:
Alabama

Alaska

Arizona

Arkansas

California

Colorado

Congress

Connecticut

D.C.

Delaware

Florida

Hawaii

Idaho

Illinois

Indiana

Iowa

Kansas

Louisiana

Maryland

Massachusetts

Minnesota

Mississippi

Missouri

Montana

Nebraska

New Hampshire

New Jersey

New Mexico

New York

North Carolina

Ohio

Oklahoma

Oregon

Pennsylvania

South Carolina

South Dakota

Tennessee

Texas

Utah

Vermont

Virginia

Washington

West Virginia

Wyoming
A reliable attorney can evaluate the facts of your case, help you understand how the state's laws affect your case, and craft your defense strategy.
Fighting a Charge Issued in Another State
However, depending on the state's law where you were arrested and charged with a DUI/DWI, you may be able to fight your drunk driving charges. Therefore, if you have been arrested and charged with a DUI or DWI-related offense in any IDLC or NRVC member state, you need to reach out to a skilled criminal defense lawyer immediately. Your legal counsel can help you understand your rights and help build a solid defense strategy in pursuit of the most favorable outcome for your unique circumstances.
Tips if You've Gotten a DUI Charge and Are Moving to a New State
If you have gotten a traffic citation or DUI charge and you're moving to another state, here are some insightful tips for you:
Do not ignore the DUI – including court dates and other criminal charges.

Request a formal administrative hearing immediately to avoid or delay a license suspension.

Avoid any encounter with the police in the other state.

Make necessary arrangements to attend the court hearings in your home state.

Hire an experienced attorney to represent you in your DUI/DWI case.
When facing DUI/DWI charges and considering moving out of state, it is imperative that you retain a skilled criminal defense attorney for proper guidance and to help protect your rights.
Get the Skilled Legal Guidance You Need
A DUI conviction may likely be transferred to your public or driving record in another state after a relocation. Nonetheless, fighting your drunk driving allegations with experienced guidance can help you avoid severe penalties and long-term consequences, even after leaving the state. With two decades of extensive experience, I have the diligence, expertise, and resources to protect clients facing DUI charges from the worst possible penalties.
As your legal team, I can investigate all of the facts of your case and outline an effective defense strategy to help fight your DUI charges. Also, I will review the arresting officer's conduct, investigate the testing procedures, and find inconsistencies in the prosecution's case. Using my extensive knowledge of DUI laws, I will help you navigate the criminal justice system and help you achieve the most favorable outcome for your unique situation.
Facing DUI charges in Kansas or Missouri can be difficult and overwhelming. Don't face it alone. Contact me at Richman Law Office LLC today to schedule a simple case assessment with an experienced criminal defense attorney. I can offer you the aggressive representation and personalized legal guidance you need in your DUI case. My firm is proud to serve clients across Kansas City, Kansas and Kansas City, Missouri.